View Sandwich Menu
Deli & Sandwiches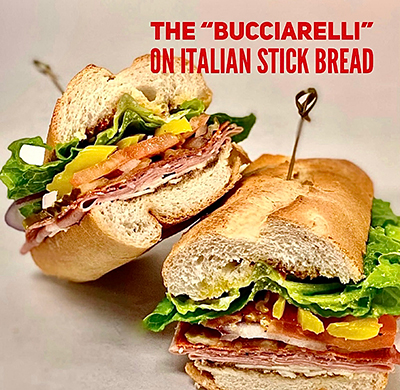 Experience the ultimate in taste and quality with our premium selection of imported and domestic cold cuts and cheese. At our deli, we are proud to offer Boar's Head Brand products, as well as a range of high-quality imported Italian cold cuts, including Prosciutto Di Parma, Genoa salami, and more. We never compromise on quality, and we never substitute with lesser quality products.
Our handcrafted, generously portioned sandwiches are a true feast for the senses, featuring a generous 1/3 lb. of the freshest meats. We offer freshly baked ciabatta and baguettes daily, and our extensive bread options and delicious toppings allow you to customize your sandwich just the way you like it. Our deli has something to satisfy every craving. Come and taste the difference for yourself and discover why our sandwiches are the best you will find in the area - authentic and handcrafted.
Note to our loyal customers
:  As you've seen our prices go up on our sandwiches, please know that price increases on all of our deli products are out of our control, especially with imports from Italy. To preserve the integrity of our sandwiches, we will continue using Imported Prosciutto, Genoa Salami, Soppressata, Capicola and Speck and not substitute with domestic or lesser quality cold cuts. Our freshly baked ciabatta and baguettes are one of a kind and we refuse to substitute with a lesser bread! You'll be hard pressed to find any Italian deli packing sandwiches with the amount of high-end Italian imported cold cuts that we do, anywhere in our area. Imported Prosciutto Di Parma on sandwiches…only at Bucciarelli's!